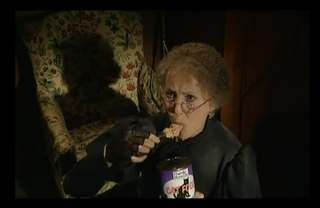 The company Hags and Horrocks is known to supply potions ingredients, jars, bottles and herbs, but it also supplies various food for animals.
The Cat Food can is clearly visible in the episode A Pig In a Poke, when Miss Bat is feeding the kittens that will be given to the first years at the Presentation of the Kittens. But she is eating it too and according to her it is quite tasty.
Ad blocker interference detected!
Wikia is a free-to-use site that makes money from advertising. We have a modified experience for viewers using ad blockers

Wikia is not accessible if you've made further modifications. Remove the custom ad blocker rule(s) and the page will load as expected.