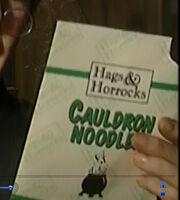 A variety of soup made by Hags & Horrocks. Miss Bat enjoys her Cauldron Noodle Soup with Smoked Eel Flavouring while Miss Cackle has to eat the same food the students are served in, "When We Feast at the Midnight Hour."
Ad blocker interference detected!
Wikia is a free-to-use site that makes money from advertising. We have a modified experience for viewers using ad blockers

Wikia is not accessible if you've made further modifications. Remove the custom ad blocker rule(s) and the page will load as expected.