This article is written from a real world point of view and so is not considered part of The Worst Witch universe.
Clare Coulter

'

Born

Ontario, Canada in 1942

Occupation

Actress
Clare Coulter plays Miss Amelia Cackle in both The Worst Witch, and The New Worst Witch. She also plays Miss Cackle's Twin, Agatha. Clare Coulter was born in Ontario in 1942, spent a part of her childhood in post-war London and has so far been very busy as an actress, mostly at Canadian theatre at which she is considered a "diva in residence". She likes to keep her private life private and shares her apartment at Toronto with a cat. In 1997 she worked on "The Designated Mourner", in 1999 she has appeared in a Margaret Atwood adaption ("Good Bones", including excerpts from "Good Bones" and "Murder in the Dark" which was repeated in 2000).
Filmography
The New Worst Witch (2005) .... Miss Cackle
Five Senses, The (1999) .... Clare
"Worst Witch, The" (1998) TV Series .... Miss Cackle
Simple Wish, A... aka Fairy Godmother, The (1997)
Marriage Bed, The (1996) (TV) .... Margaret Neilson
Shamrock Conspiracy, The (1995) (TV)
When Night Is Falling (1995) .... Tillie, see here:
Deadly Betrayal: The Bruce Curtis Story ... aka Journey Into Darkness: The Bruce Curtis Story(1991) (TV) .... Alice Curtis
Last Season, The (1986) .... Marie Jazda
Terminal Choice (1985) .... Nurse Barton (aka Critical List, Death Bed, Death List, and Trauma
Wars, The (1983) .... Eena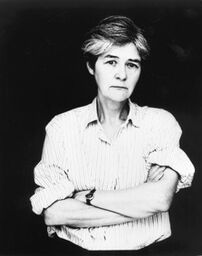 By Design ... aka Sur mesure (Canada: French title) (1982) .... Ms. Hirshorn
Notable TV guest appearances
"Foolish Heart" (1999) playing "Psychiatrist" in episode: "Correct Decision, The" (episode # 1.3) 3/17/1999
"Due South" (1997) playing "Barbara Kowalski" in episode: "Easy Money" (episode # 2.2) 9/30/1998
"Newsroom, The" (1996) in episode: "Meltdown: Part 2" (episode # 2.5) 3/24/1997
"Newsroom, The" (1996) in episode: "Meltdown: Part 3" (episode # 2.6) 3/17/1997
"Ray Bradbury Theatre, The" (1985) playing "Store Owner" in episode: "Town Where No One Got Off, The" (episode # 1.4) 2/22/1986
"A Mountie in Chicago", season 3, "Easy Money", playing Barbara Kowalski
External Links