Dyllis Mutardseed

'

Magical Status

Witch

Gender

Female

Hair Colour

Black

Eye Colour

Brown

Occupation

Student Witch

Actress

Narisha Lawson (The New Worst Witch)
Dyllis Mustardseed is a witch and a student at Cackle's Academy. She is seen as a small, timid and unpopular girl and usually spends her day trying to find friends.
Story
The New Worst Witch
Dyllis Mustardseed is an up beat, though shy character in the series. At one point she uses a potion to increase her popularity.
[1]
She also assists
Hettie's
help in all of the end-of-year projects. It is during the broomstick-flying test that she discovers the missing owl mascot from
Pentangle's
.
[2]
Within the second series she comes to her own as her character increases.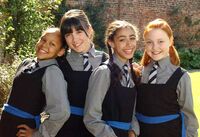 Dyllis also won the Golden Broomstick which was later stolen by Belladonna. She also helped when the academy was invaded by Agatha Cackle and Betty Bindweed by using her project that brung inanimate objects back to life when Agatha used it against the staff at Cackle's.[3]
Cackle's Academy is a thousand years old, and the highlight of the teachers' plans is a solo performance of the school song from Dyllis Mustardseed, who is terrified by the very thought. So Hettie, Mona and Cressie make her a transformation potion - a potion which will make bad people good, and shy people confident. To their amazement it actually works.[4]
Personality and Traits
Dyllis Mustardseed is an up beat, though shy character. Dyllis once felt that she was so unpopular she stole the potion's book "
The Enchanted Book of Potions
" from the Library to make herself popular among her class mates except this caused the castle to go on lockdown and most acitivities were suspended and Henrietta Hubble was blamed for the stealing of the book, later Dyllis under a lying potion said she didn't take the book (since it was a lying potion, "no means yes"). Believing that Belladonna stole the book Hettie makes a truth potion but soon to everyone's amazement Dyllis admits that she took the book to make a popularity potion.
[5]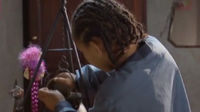 Relationships
Dyllis is a very unpopular student at Cackle's Acadamy; she spends most of her free time trying to find other girls from the school to be friends with. She takes a strong liking to towards Cynthia Horrocks and Belladonna Bindweed, though she is also sort-of-friends with Henrietta Hubble.
Appearances
References
Ad blocker interference detected!
Wikia is a free-to-use site that makes money from advertising. We have a modified experience for viewers using ad blockers

Wikia is not accessible if you've made further modifications. Remove the custom ad blocker rule(s) and the page will load as expected.