This article is written from a real world point of view and so is not considered part of The Worst Witch universe.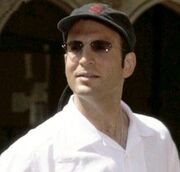 Eric Loren
is a London-based American actor and musician. He played
Dr Andy Starfinder
in
Weirdsister College
.
Loren also played Mr Diagoras and the Cult of Dalek Sec in the long-running British TV series Doctor Who.[1] He also played Kurtis Trent in Tomb Raider: The Angel of Darkness and a War Department Lieutenant in Saving Private Ryan.[2] In 2008 he guest starred in the Doctor Who audio adventure Assassin in the Limelight. Most recently, Loren has appeared in 2011 Video Game, Battlefield 3, as Sergeant Steve Campo.
References
External links
Ad blocker interference detected!
Wikia is a free-to-use site that makes money from advertising. We have a modified experience for viewers using ad blockers

Wikia is not accessible if you've made further modifications. Remove the custom ad blocker rule(s) and the page will load as expected.