Girls Will Be Boys is the third episode of the second season of The New Worst Witch. It was preceded by Lost and Found, and followed by Next Week's News.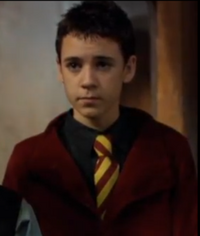 Plot
Mona has entered herself for the prestigious Wizz of the Year Competition, and Hettie is determined to help Mona win, whether she likes it or not. A rival contestant for the title is Miss Hardbroom's nephew, Artemis, and Belladonna is told to look after him. But Art, as he likes to be known, prefers Hettie's company and keeps giving Belladonna the slip. When Art tells Hettie the competition is for boys only, she decides they must "help" Mona and together they prepare a cross-genderalisation potion. However they only have half the ingredients and the potion's effects are not exactly as Hettie had planned.
Ad blocker interference detected!
Wikia is a free-to-use site that makes money from advertising. We have a modified experience for viewers using ad blockers

Wikia is not accessible if you've made further modifications. Remove the custom ad blocker rule(s) and the page will load as expected.