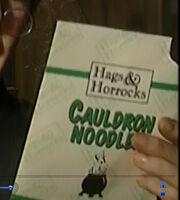 Hags and Horrocks is a company which sells jars of herbs and other potions supplies from their factory. They have been in business for 4000 years (The Witchy Hour).
Buying herbs in jars can be seen as cutting corners as fresh ingredients work better in potions. Miss Hemlock was quick to point this out. Despite this, Miss Hardbroom ordered her supplies from Hags and Horrocks for convienence. (Power Drill)
During Mildred's third year, it appeared as though the business was flourishing as they sponsored projects such as the Witchy Hour, hosted by DJ Icy Stevens, for Sorcery FM. (The Witchy Hour)
However, by the time Henrietta Hubble arrives at Cackle's, it appears they have hit some hard times as their factory is bought by Ethel Hallow's father.
Hags and Horrocks products include potion ingredients, herbs, Cauldron noodle soup, cat food and bat flakes.
Ad blocker interference detected!
Wikia is a free-to-use site that makes money from advertising. We have a modified experience for viewers using ad blockers

Wikia is not accessible if you've made further modifications. Remove the custom ad blocker rule(s) and the page will load as expected.