This article is written from a real world point of view and so is not considered part of The Worst Witch universe.
Holly Rivers
is an actress who played
Drusilla Paddock
in
The Worst Witch TV series
. She left acting and works as a fashion blogger.
Holly still acts, but also works as a TV presenter and a punk model. She's also a member of all-girl choir Gaggle according to her website. Her Spotlight page shows she has appeared in many stage productions in Wales in recent years. She is also an experienced children's storyteller and drama facilitator, and plays the ukulele.[1]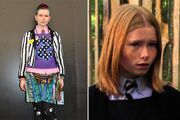 References
Ad blocker interference detected!
Wikia is a free-to-use site that makes money from advertising. We have a modified experience for viewers using ad blockers

Wikia is not accessible if you've made further modifications. Remove the custom ad blocker rule(s) and the page will load as expected.