Icy Stevens

'

Magical Status

Wizard

Gender

Male

Hair Colour

Dark Brown

Eye Colour

Occupation

DJ and host of radio show The Witchy Hour

Actor

Christopher Guard (1998 TV Series)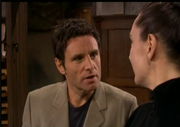 Icy Stevens
is a DJ and host of radio show
'The Witchy Hour'
, where Witch schools compete in a quiz game.
Story
1998 TV Series
Cackle's Academy is chosen to take part in the show, against the dreaded Pentangle's Academy. While Miss Cackle thinks it will be good for the Academy, Miss Hardbroom refuses to have anything to do with it. One of Pentangle's star players, Deirdre Swoop, is injured after a magic fight with Enid, and Mildred is ordered to stand in for her and play against Cackle's in the quiz, much to the disgust of her friends. Miss Pentangle offers Mildred a permanent transfer to her Academy if she does well in the quiz. Mildred's photographic memory is paying off for Pentangle's, and they look set to win, until Ethel intervenes. She attempts to turn Mildred into a frog, but accidentally hits Icy Stevens while still live on air. Miss Hardbroom then steps in to present the final round and saves the Academy from humiliation, declaring the quiz a draw.
When "The Witchy Hour" radio show was hosted at Cackles', DJ Icy Stevens seemed to fall in love with Miss Hardbroom at first sight, and she appeared to reciprocate, but she simply appreciated his admiration. When he invited her to go away on a romantic holiday and put his hand on her arm, she immediately rebuffed him.[1]
Relationships
Icy is entertaining everyone when he decides to ask Miss Hardbroom to join them. When he finds out she's her (apparently, he saw her give a lecture once and he's rather smitten) he starts gushing and drooling, and, in spite of herself she has a glass of wine.
Later, the girls see him talking to Miss Hardbroom and joke about whether she turned him back with magic or "the old fashioned way". He starts gushing again, and asks her to join him on his show, and go on his private jet with him right that instant and all sorts of things. Miss Hardbroom replies: "Your hand is on my arm." Then she magics his chair so that he falls down.
Appearances
References
Ad blocker interference detected!
Wikia is a free-to-use site that makes money from advertising. We have a modified experience for viewers using ad blockers

Wikia is not accessible if you've made further modifications. Remove the custom ad blocker rule(s) and the page will load as expected.