This article is written from a real world point of view and so is not considered part of The Worst Witch universe.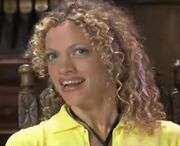 Indra Ové
(born London, 1968) is a British movie and stage actress. She
Played Miss Nightingale in The New Worst Witch.
Career
Her most notable appearance was in Interview with the Vampire, where she worked with Tom Cruise and Brad Pitt portraying a New Orleans whore.[1] She has also had a small role in The Fifth Element as a VIP Stewardess, was in Othello (playing Bianca to Laurence Fishburne's lead) and had a small role (Ella Fontaine) in Resident Evil. Her television roles include the British children's series The New Worst Witch and the British/German co-produced sci/fi Space Island One.[2] She appeared in a 1992 episode of Desmond's, playing Samantha. Indra will also be remembered for her role as "Etty" in the British children's series The Latchkey Children.
She is the sister of artist/director Zak Ové[3] and the daughter of pioneer film maker Horace Ové.
Filmography
Interview with the Vampire: The Vampire Chronicles (1994)
Othello (1995)
More Is Less (1997 Short)
The Fifth Element (1997)
The Cyberstalking (1999 TV movie)
Wavelengths (1999 Short)
The Dreamer (2000 Short)
Fallen Dreams (2001)
Resident Evil (2002)
Club Le Monde (2002)
It's All About Love (2003)
The Best Man (2005 TV movie)
My One and Only (2009)
Hellhounds (2009 TV movie)
Il maestro (2011 Short)
Wonder (2012 Short)
Indra also played the character 'Zephyr' in the cult BBC series 'Bugs' in the late 1990's.
References
Ad blocker interference detected!
Wikia is a free-to-use site that makes money from advertising. We have a modified experience for viewers using ad blockers

Wikia is not accessible if you've made further modifications. Remove the custom ad blocker rule(s) and the page will load as expected.