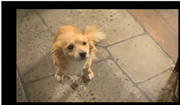 Kitty
is
Hettie Hubble's
 dog. In
The New Worst Witch
episode 2,
The Confidence Trick
, the girls have to pass their broomstick flying test in order to stay at
Cackle's
. If they fail then they will be expelled from
Cackle's
. When the student witches pass, they get given a cat. When
Hettie
wishes she'd rather have a dog,
Belladonna
makes her wish come true by turning the dog her
grandmother
sent her into a cat.
Miss Cackle
then lets 
Hettie
 keep the dog.
She's quite happy about it, preferring dogs, and names the dog Kitty. Miss Cackle is very amused at the idea of a witch having a dog, and Hettie is allowed to keep the pup instead of being made to get a cat. Kitty is not ever seem accompanying Hettie on her broom, however.
Appearances
Ad blocker interference detected!
Wikia is a free-to-use site that makes money from advertising. We have a modified experience for viewers using ad blockers

Wikia is not accessible if you've made further modifications. Remove the custom ad blocker rule(s) and the page will load as expected.