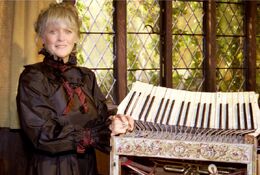 The mood synthesizer is one of the third year chanting teacher, Miss Crotchet's acquisitions. She aquired it in Vienna in the summer when she was on a contemporary chanting course. It looks like a barrel organ, but inside are thousands of magical sounds, which when mixed together can transform a mood or an atmosphere in a moment. This is done by engaging the right combinations of stops and keys.
Ad blocker interference detected!
Wikia is a free-to-use site that makes money from advertising. We have a modified experience for viewers using ad blockers

Wikia is not accessible if you've made further modifications. Remove the custom ad blocker rule(s) and the page will load as expected.