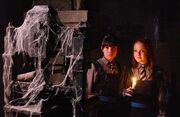 Next Week's News
is the fourth episode of the second season of
The New Worst Witch
. It was preceded by
Girls Will Be Boys
, and followed by
The Big Sleep
.
Plot
Hettie and Mona are exploring the dungeons of Cackle's, an area expressly out of bounds to the pupils. They discover a hidden room, containing a strange old machine, which Mona identifies as an ancient printing press. Hettie decides to start a school newspaper and, fired with enthusiasm, persuades Mona to get the press working whilst she and Cressie search for stories. Unfortunately they can't find many, so Hettie makes up a few instead. Next day the whole school is entertained by Hettie's newspaper, until they realise that the stories in the paper are all coming true and, unless they do something about it, which means Belladonna has a wart on her nose, Miss Cackle writes poems, and Miss Hardbroom is about to be eaten by a giant owl...
Ad blocker interference detected!
Wikia is a free-to-use site that makes money from advertising. We have a modified experience for viewers using ad blockers

Wikia is not accessible if you've made further modifications. Remove the custom ad blocker rule(s) and the page will load as expected.