This article is written from a real world point of view and so is not considered part of The Worst Witch universe.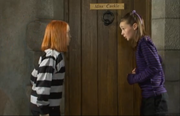 No Place Like Home
is the fourth episode of the first season of
The New Worst Witch
. It was preceded by
Rules Rules Rules
, and followed by
Trick or Treat
.
Plot
Cressie is homesick and Hettie wants to make her feel better. In fact Cressie isn't homesick at all. Hettie soon makes Cressie miss home when she throws out her lucky horseshoe. Hettie thinks that Cressie has run away from school but again gets it wrong - Cressie is simply sending good vibes to her family from the top of the school shed.
A new girl, Cynthia Horrocks, arrives on a Charity Scholarship from Pentangles, and immediately makes an enemy out of Mona. This is because Mona's dad took over Cynthia's dad's factory and she was forced to leave Pentangle's and go to Cackle's. Cynthia Horrocks soon gets Mona into trouble by blaming her for trashing the staff room. Hettie finds evidence to prove that Mona is blameless.