This article is written from a real world point of view and so is not considered part of The Worst Witch universe.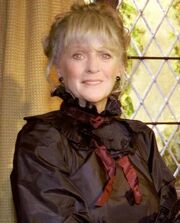 Polly James
(born 8 July 1941, Blackburn, Lancashire) is an award winning British actress.
with a varied career in theatre, film, television and radio spanning nearly 40 years. She has worked extensively with leading directors including John Schlesinger and Peter Brook. Polly James played Miss Crochet in The Worst Witch.
After graduating from RADA, her TV career began in BBC2's Thirty minute theatre , followed by the role of a drug addict in Z Cars in 1967. She played Audrey Hargreaves in Coronation Street in 1967. She is best known for her role as Beryl Hennessey in the first four series of the British sitcom The Liver Birds (1969-74), with Nerys Hughes (from the second series onwards). The series had started in April 1969 as an episode of Comedy Playhouse, the BBC's breeding ground for sitcoms. She played Cicely Courtneidge in the biographical musical of the actress Once More with Music in 1976, appeared as a soubrette in Alan Clarke's 1982 production of Baal, and in Doctor Who in 1984. She appeared, too, in the West End musicals, I and Albert and Anne of Green Gables.
In conjunction with her acting career, Polly James developed her directing and teaching skills both in the London theatre and in drama-based development workshops with the internationally renowned Skyros community.
Television Roles
Comedy
| Year | Title | Role |
| --- | --- | --- |
| 1969 to 1974 | The Liver Birds | Beryl Hennessey |
| 1996 | Whatever Happened to The Liver Birds? | Beryl Fenning née Hennessey |
Children's
| Year | Title | Role |
| --- | --- | --- |
| 2000 to 2001 | The Worst Witch | Miss Lavinia Crotchet |
External links
Ad blocker interference detected!
Wikia is a free-to-use site that makes money from advertising. We have a modified experience for viewers using ad blockers

Wikia is not accessible if you've made further modifications. Remove the custom ad blocker rule(s) and the page will load as expected.