This article is written from a real world point of view and so is not considered part of The Worst Witch universe.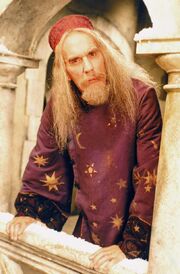 Richard Durden
(born 08 february 1943 in London?) is an English actor with a range of television, film and stage credits. He played
Grand Wizard Egbert Hellibore
in the second season of
The Worst Witch
.
In 1968, he married actress Maria Aitken and divorced 1971. He subsequently married actor Jane How in 1996. His elder brother is Jo Durden-Smith.
Other roles include From Paris with Love (film), The Last Days of Lehman Brothers; The Worst Witch (TV series), Nuremberg: Nazis on Trial; Noble House (TV miniseries); Dunkirk (TV series); Agatha Christie's Marple; Highlander: The Series; The Best Man (2005 film); The First 9½ Weeks; Midsomer Murders; Piece of Cake (TV series); The Awakening (2011 film); Dressing for Breakfast; The Dead of Jericho; Pumpkinhead: Blood Feud.
On radio he played Bashwood in Armadale (novel).
References
Ad blocker interference detected!
Wikia is a free-to-use site that makes money from advertising. We have a modified experience for viewers using ad blockers

Wikia is not accessible if you've made further modifications. Remove the custom ad blocker rule(s) and the page will load as expected.