This article is written from a real world point of view and so is not considered part of The Worst Witch universe.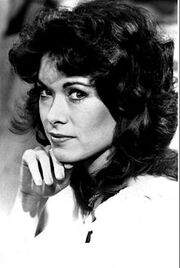 Sabina Franklyn
(born 15 September 1954) is an English actress, and the daughter of William Franklyn and Margo Johns.
Sabina appeared in the 1986  film "The Worst Witch", as Miss Spellbinder, alongside Diana Rigg, Fairuza Balk and Tim Curry, to name but a few.
She appeared in the ITV sitcoms Keep it in the Family and Full House and was also in the final episode of Fawlty Towers, as well as various episodes of When The Boat Comes In, All Creatures Great and Small, and Boon. In 2002, she guest-starred in the Doctor Who audio drama, Bang-Bang-a-Boom!.
In November 2009, she played the role of Eve Wilson, in Coronation Street.
In earlier years she played Joanna Burton in the 1985 TV movie Marple: The Moving Finger.
She attended the independent Queen's Gate School and acted on stage with repertorytheatres before her television appearances.
She was formerly married to actor John Challis, of Only Fools and Horses fame.
External links
Ad blocker interference detected!
Wikia is a free-to-use site that makes money from advertising. We have a modified experience for viewers using ad blockers

Wikia is not accessible if you've made further modifications. Remove the custom ad blocker rule(s) and the page will load as expected.