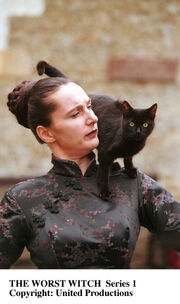 Stormy
is
Enid Nightshade
's 
cat
, mentioned by name in
The Worst Witch to the Rescue
 but renamed Teaser in the television series (
Monkey Business
). Enid was training her to jump from the top of the wall onto her broom as passed below at speed. Fortunately, Stormy was rather bold, unlike most cats, and wasn't bothered by sudden movement. Stormy really enjoyed this manoeuvre and was happily jumping from the wall, landing perfectly on the broom, zooming around the yard, and leaping back on the wall, supervised by a proud Enid.
In The Worst Witch Strikes Again (book) and Monkey Business (TV) Enid turned her cat into a monkey temporarily.
Appearances
Ad blocker interference detected!
Wikia is a free-to-use site that makes money from advertising. We have a modified experience for viewers using ad blockers

Wikia is not accessible if you've made further modifications. Remove the custom ad blocker rule(s) and the page will load as expected.