Tansy Weirdstone

'

Magical Status

Witch

Gender

Female

Hair Colour

Brown

Eye Colour

Occupation

Student Witch

Actress
Tansy Weirdstone is a witch and a student at Cackle's Academy, in the same year as Mildred. In Fair Is Foul & Fouls Are Fair, Bryony, Gloria, Harriet and Tansy are the cheerleaders led by Miss Bat. Tansy and Bryony never appeared in the books, and were created for the TV series.
Appearances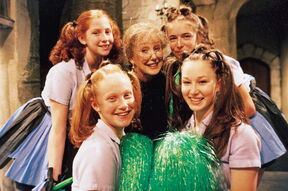 Ad blocker interference detected!
Wikia is a free-to-use site that makes money from advertising. We have a modified experience for viewers using ad blockers

Wikia is not accessible if you've made further modifications. Remove the custom ad blocker rule(s) and the page will load as expected.