This article is written from a real world point of view and so is not considered part of The Worst Witch universe.
The Bewitching of Mona Hallow is the tenth episode of the first season of The New Worst Witch. It was preceded by The Visitors, and followed by The Black Hole Club.
Plot
Its Hazlemass, a special Hedge Witch ceremony, and Hettie wants the school to embrace Cressie's Hedgewitch friendship festival but is told that Cackle's does not permit such alternative ideologies. Ignoring the teachers, Hettie, Mona and Cressie begin their plans to celebrate and make the friendship cake central to the friendship ceremony. But when the girls leave the celebration cake unattended, Mona is turned into Hettie and Cressie's enemy as Belladonna casts an 'enemyship' spell on the cake. Mona persuades the others that she can look after the cake without touching it. She just has a taste and immediately becomes enemies with Hettie and Cressie. Soon even the teachers hate each other as friends become enemies when they eat a slice of the cake. Hettie and Cressie save the day through Hedgewitch magic.
Goof
Given the fact that Miss cackle has previously been shown to be very tolerant of other ways of life, it is very surprising that she would forbid Cressie her ways.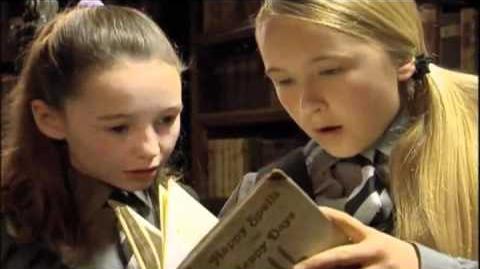 Ad blocker interference detected!
Wikia is a free-to-use site that makes money from advertising. We have a modified experience for viewers using ad blockers

Wikia is not accessible if you've made further modifications. Remove the custom ad blocker rule(s) and the page will load as expected.