This article is written from a real world point of view and so is not considered part of The Worst Witch universe.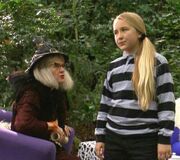 The Enemy Within
is the thirteenth episode of the first season of
The New Worst Witch
. It was preceded by
Time After Time
, and followed by
The Curse of Cackles
.
Plot
It's the last day of the school year and Hettie gets her final chance to win the Golden Broomstick but it is awarded to Dyllis. Hettie and Belladonna are both horrified. Belladonna needs the broomstick more than anyone - she has been contacted by her grandmother and has set up a plan with Agatha Cackle and the Bad Witches to take over Cackle's Academy. The Bad Witches tell Belladonna that the golden broomstick holds special powers that will help them in their battle against Miss Cackle. Belladonna steals the golden broomstick from Dyllis and soon the Bad Witches have taken over the school. Miss Hardbroom is turned into a rat and the teachers and pupils are locked in the dungeons. Hettie tricks Belladonna into thinking that she has changed allegiances to the Bad Witch side. Hettie leads the attack to save Cackle's from the Bad Witches.