This article is written from a real world point of view and so is not considered part of The Worst Witch universe.
The Levitating Boomerang Broomstick is the episode 8 of the first season of The New Worst Witch. It was preceded by Deadly Doubles, and followed by The Visitors.
Plot
Hettie accidentally does a very famous broomstick trick whilst trying out for the Open Day Broom Formation. She takes all the glory, but then is thrown in the deep when Miss Cackle and Miss Hardbroom decide to drop the broom formation and expect Hettie to perform the trick for Open Day and in front of the last witch to do the trick, Araminta Hexley-Gore.
It's almost time for the school Open Day and a famous witch, Araminta Hexley-Gore, will be the guest of honour. Hettie pretends to all that she can perform the almost impossible 'Levitating Boomerang' stunt on her broomstick - a stunt which has only ever been perfected by Araminta. In reality Caspian created a wind in an experiment to make gold but inadvertantly enabled Hettie to perform the stunt. It is only when Hettie is asked to perform the stunt in front of Araminta and the whole school that she admits she can't really do it at all. On hearing Hettie's confession Araminta admits that she too has never successfully completed the stunt on her broomstick and she praises Hettie for owning up to the truth.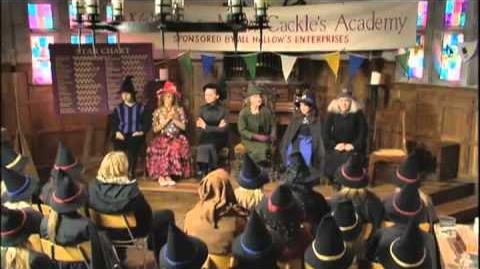 Ad blocker interference detected!
Wikia is a free-to-use site that makes money from advertising. We have a modified experience for viewers using ad blockers

Wikia is not accessible if you've made further modifications. Remove the custom ad blocker rule(s) and the page will load as expected.