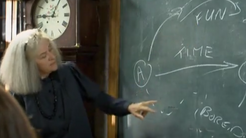 Time 
is a dimension which events can be order into past, present and future.
Time Magic
"But dabbling time inevitably has all sorts of underseen effects and is extremely dangerous."

Amelia Cackle to Crescentmoon Winterchild after she travels back in time and repeats the lesson.
Time Magic is a type of magic which can only be performed by Time Witches which Amelia Cackle describes as "a mistake at birth". The spell that can altar time is "Tempest Fugit Arrestum" and can be used in various ways by Time Witches.
Ad blocker interference detected!
Wikia is a free-to-use site that makes money from advertising. We have a modified experience for viewers using ad blockers

Wikia is not accessible if you've made further modifications. Remove the custom ad blocker rule(s) and the page will load as expected.