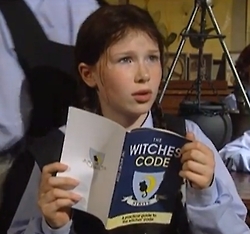 The Witches Code is a set of rules that every witch must adhere to at all occasions. The rules themselves appear to have magical properties, for instance: Agatha Cackle and her cohorts are unable to cast spells after swearing an oath not to do so. (Double, Double, Toil and Trouble)
When refering to a section in the Witches Code, the words "Rule" and "Page" are interchangable as Mildred and Miss Hardbroom refered to the same paragraph, each using a different word. We can gather from this that each rule takes up exactly one page of the handbook. (Double, Double, Toil and Trouble), (The Witchy Hour). The Witches Code handbook is a required textbook at Cackle's Academy.
Here is a list of known rules:
Rule 1, Paragraph 3: "Magic should not be used for trivial purposes" (Deadly Doubles)
Rule 7, Paragraph 3: Regards a witch being allowed to defend herself if physically pushed. (The Witchy Hour)
Rule 8: "There is no rule number 8. It is simply there to remind us that there is a rule for everything, even if we do not know what it is." (The Witchy Hour)
Rule 19, Paragraph 8: "No retaliation after retransfrogification. A witch who has been changed into an animal for the purposes of self defense, on being changed back, must admit defeat." (Double, Double, Toil and Trouble), (The Witchy Hour)

According to the "Statute of Limitations" in the "Ancient Laws & Statutes": "On the day after a full moon, in the month of July, the laws against retaliation do not apply." This only applies to castles or hillforts. (A Bolt from the Blue)
Within the witches code, there is also at least three clauses referring to when ignoring rules is appropriate:
Clause 3, Paragraph 57: "Magic can be used for educational purposes when authorized by a superior." (Deadly Doubles)
Here is a list of known rules, whose numbers weren't identified:
"Never forget to keep your broomstick dry." (The Witchy Hour)
"Never mix left-over potions" (The Witchy Hour)
Ad blocker interference detected!
Wikia is a free-to-use site that makes money from advertising. We have a modified experience for viewers using ad blockers

Wikia is not accessible if you've made further modifications. Remove the custom ad blocker rule(s) and the page will load as expected.